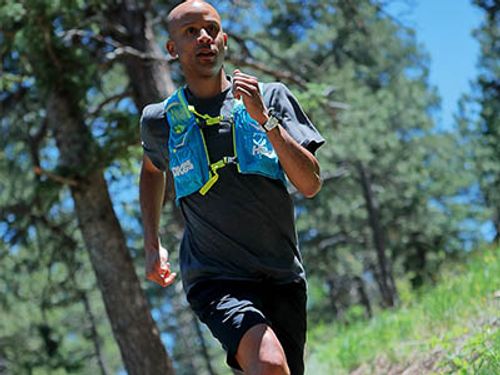 FOR IMMEDIATE RELEASE:
CASIO G-SHOCK WELCOMES AMERICAN WORLD CHAMPION RUNNER, JOSEPH GRAY TO TEAM G-SHOCK
Gray Makes Debut as G-SHOCK Ambassador with a New Campaign Video Highlighting G-SHOCK's First-Ever Heart Rate Monitor Watch
DOVER, NEW JERSEY, July 7, 2020
—
G-SHOCK
, the brand best known for its absolute toughness, recently released its first-ever heart rate monitor watch, the
GBDH1000-1A7
. A first of its kind for the brand, the GBD-H1000 combines standard G-SHOCK technology with key functions to support workouts. To coincide with the launch of the new timepiece, G-SHOCK has officially welcomed elite mountain runner,
Joseph Gray
to team
G-SHOCK
.
As the only African American member of the U.S. Mountain Running Team at any level, Gray boasts countless accolades and is an 18-Time USA National Champion as well as the first-ever national champion at the 30k trail distance. Gray embodies the supreme tenacity and toughness the G-SHOCK brand is conventionally known for and is an exciting addition to team G-SHOCK, as the brand places an additional focus on health and fitness.
Gray had this to say about the partnership: "I am elated to be the latest member of team G-SHOCK. The brand has always been a favorite of mine on and off the trail and it feels right at home for me."
To commemorate the partnership, G-SHOCK has released a new video featuring Gray putting the GBD-H1000 to the test while training for an upcoming 10K mountain race. Gray showcases the watch's ability to create a training plan unique to him, as well as the model's built-in GPS, target heart rate display, Vo2 Max sensor, and long battery life that help him stay on track and become an even more competitive runner.
The campaign video can be viewed in full
HERE
.
The
GBDH1000-1A7
, worn by Gray in the film, is accompanied by the all-black
GBDH1000-1
. Both models retail for $399 and are available at select G-SHOCK retailers including Macy's, G-SHOCK Soho Store, and
gshock.com
.
To learn more about Joseph Gray and the rest of team G-SHOCK, please visit:
gshock.com/team
.
# # #
About G-SHOCK
CASIO's shock-resistant G-SHOCK watch is synonymous with toughness, born from the developer Mr. Ibe's dream of 'creating a watch that never breaks'. Over 200 handmade samples were created and tested to destruction until finally in 1983 the first, now iconic G-SHOCK hit the streets of Japan and began to establish itself as 'the toughest watch of all time'. Each watch encompasses the 7 elements; electric shock resistance, gravity resistance, low temperature resistance, vibration resistance, water resistance, shock resistance and toughness. The watch is packed with Casio innovations and technologies to prevent it from suffering direct shock; this includes internal components protected with urethane and suspended timekeeping modules inside the watch structure. Since its launch, G-SHOCK has continued to evolve, continuing to support on Mr. Ibe's mantra "never, never give up." www.gshock.com.
About Casio America, Inc.
Casio America, Inc., Dover, N.J., is the U.S. subsidiary of Casio Computer Co., Ltd., Tokyo, Japan, one of the world's leading manufacturers of consumer electronics and business equipment solutions. Established in 1957, Casio America, Inc. markets calculators, keyboards, mobile presentation devices, disc title and label printers, watches, cash registers and other consumer electronic products. Casio has strived to realize its corporate creed of "creativity and contribution" through the introduction of innovative and imaginative products. For more information, visit www.casio.com.